Shine Kids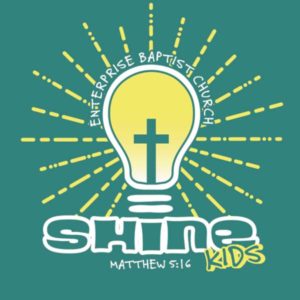 Matthew 5:16 "In the same way, let your light shine before men, so that they may see your good works and give glory to your Father in Heaven". Shine kids is for children nursery – 5th grade and we meet every Wednesday night at 7 pm. During the school year September – May we provide a meal for the families at 6 pm. Shines Kids focuses on helping children grow in their relationship with Christ and in their service to others. Each week our children learn an important lesson from the Bible as well as how they can minister to those within the church and those without. Each week we have a Bible lesson , fellowship, and fun! Shine Kids also participate in a monthly mission project where they learn to serve others. Shine Kids is a wonderful opportunity for children to learn about and experience the Kingdom of God in so many different ways!
Children's Church
Children are vitally important to the EBC family. We want our children to grow in their understanding of God's Word and in their desire to worship God together. One way we seek to pursue this goal is through Children's Church. During one of our worship songs in the morning service, children (ages 4-6) are given the opportunity to follow an adult leader out of the Sanctuary to another nearby room where they have their own Bible and activity time. Children's Church allows parents to focus on the morning message while their young children hear God's Word on their own level. Please know we welcome children of all ages in our morning worship service. Children's Church is just another opportunity available for children at EBC.
Nursery
Enterprise Baptist Church knows how important it is for parents with young children to have a time where they can worship God and have their spirits refreshed in God's Word. EBC has a wonderful group of volunteers who provide nursery services for babies and toddlers during our Sunday morning worship service. Our nursery and toddler rooms are conveniently located only a few steps away from the main entrance to the Sanctuary!
Vacation Bible School
VBS is one of our favorite weeks of the year at EBC! During the Summer we set aside a week dedicated to helping children get into God's Word in an exciting way. During VBS our children learn all about God's love for them and about His Son Jesus Christ. Our lessons, songs, crafts, recreation, and even food all relate to the week's theme. VBS finishes up with a fantastic Family Night where parents get to share in all their children have learned during the week. VBS is truly one of the best opportunities we have to invest in children at EBC. Check our Calendar next Summer and join us!
Worshiping God
Not once a week in a "service," but everyday with our lives.
Growing Believers
Helping each other learn to have a strong relationship with God.
Sharing Jesus
Telling the world that Jesus saves and changes lives!
Enterprise Baptist Church
404 Enterprise Road
Littleton, NC 27850
(252) 586-5161
Directions